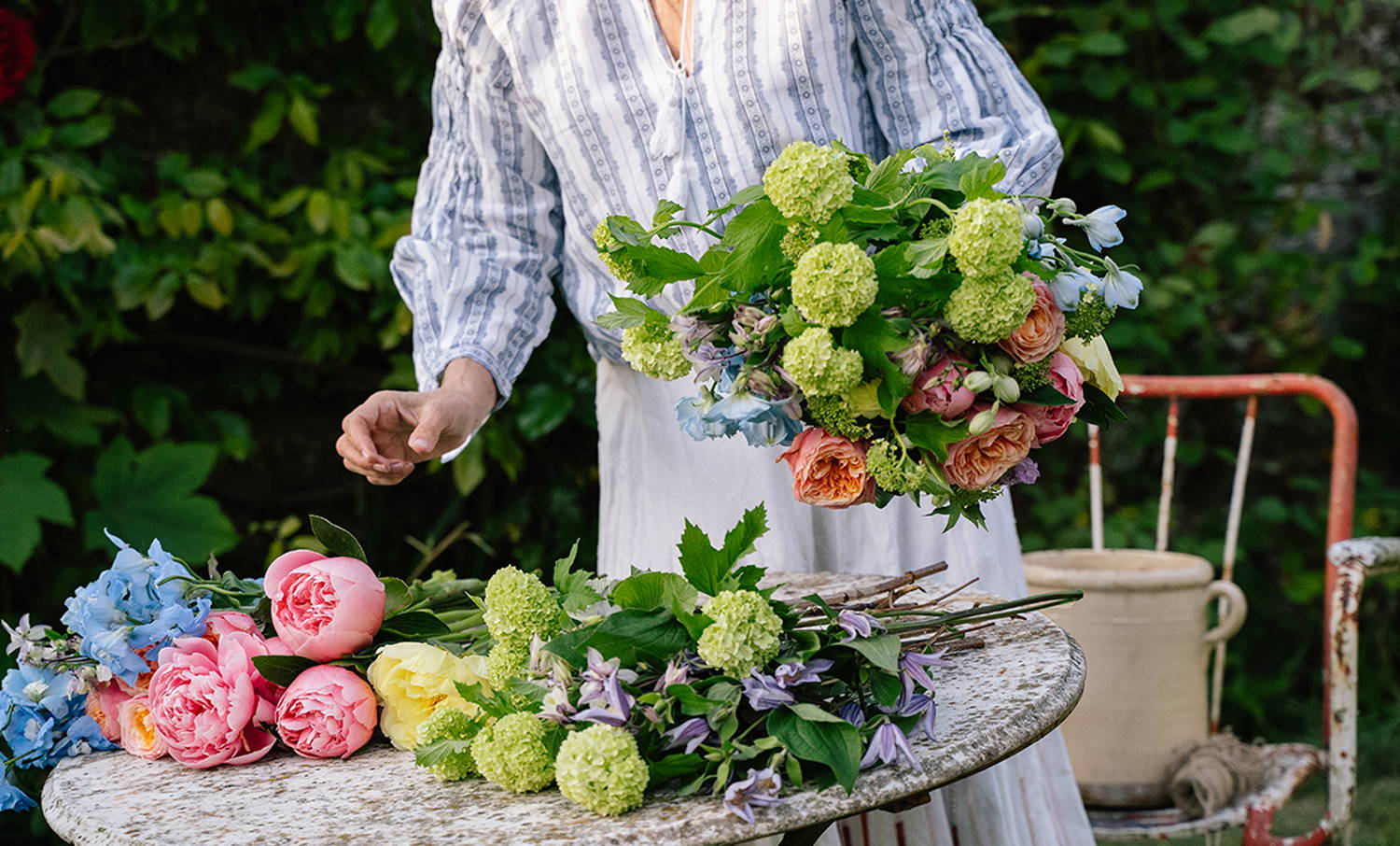 We caught up with our founder Nikki Tibbles in her garden orchard ahead of Virtual Chelsea 2020, to teach us how to create the perfect bouquet at home- in ten easy steps!
1.Consider colour, texture & scale
When I'm designing a bouquet I like to think about colour, texture and scale. A bouquet should feed the senses but ultimately bring you joy every time you look at it.
2.Opt for quality
The most important thing is the quality of the flowers. It's like anything - you get what you pay for (unless of course you are picking flowers from the garden or local woodland).
3.Opt for seasonal
The second most important thing is to choose seasonal flowers. Seasonal is always key and often the best value for money. Choosing flowers out of season to me is like eating strawberries in December! It's not right. You shouldn't be displaying peonies outside of summer.
4.Choose a beautiful vase
Next, always make sure you use a beautiful vase. One you love. A vase that has a beauty of its own to me is very important.
5.Give your flowers a good drink
Once you've selected a vase, begin by filling it with clean cold water. It's important to give your flowers a good drink.
6.Use scissors with care
Use floral scissors to cut 2 cm off each stem - at a right angle. This allows the flowers to hydrate effectively once placed in the water.
7.Bend the rules!
For me, when choosing flowers anything goes, there are no rules. I believe that actually, if you have beautiful flowers and a beautiful vase anything works. Do not be afraid to mix colours. I like to mix pale lilacs next to vivid orange and hot pink. Throw a bit of vibrant green in there and you have a masterpiece!
8.Seek inspiration
I can take inspiration from anything around me- and you can to! It could be a favourite painting, a floral dress or a piece of fabric bursting with colour. You can also look to nature and how things grow together in your garden, local park or forest.
9.Criss cross those stems
A good tip when arranging your bouquet is to criss cross and alternate any foliage you have in the vase first. Then do the same with your statement flowers like roses, hydrangeas or peonies. Finish by filling any gaps with smaller flowers such as scabious, clematis or sweet peas.
10. Enjoy!