A BRIDAL BOUQUET THAT COMPLEMENTS YOUR DRESS
Bridal bouquets typically represent good luck in the couple's future, and it's also a tradition for unmarried women to pluck some petals from the bride's bouquet. Indeed, it is a symbolic practice that aims to spread good fortune in terms of love.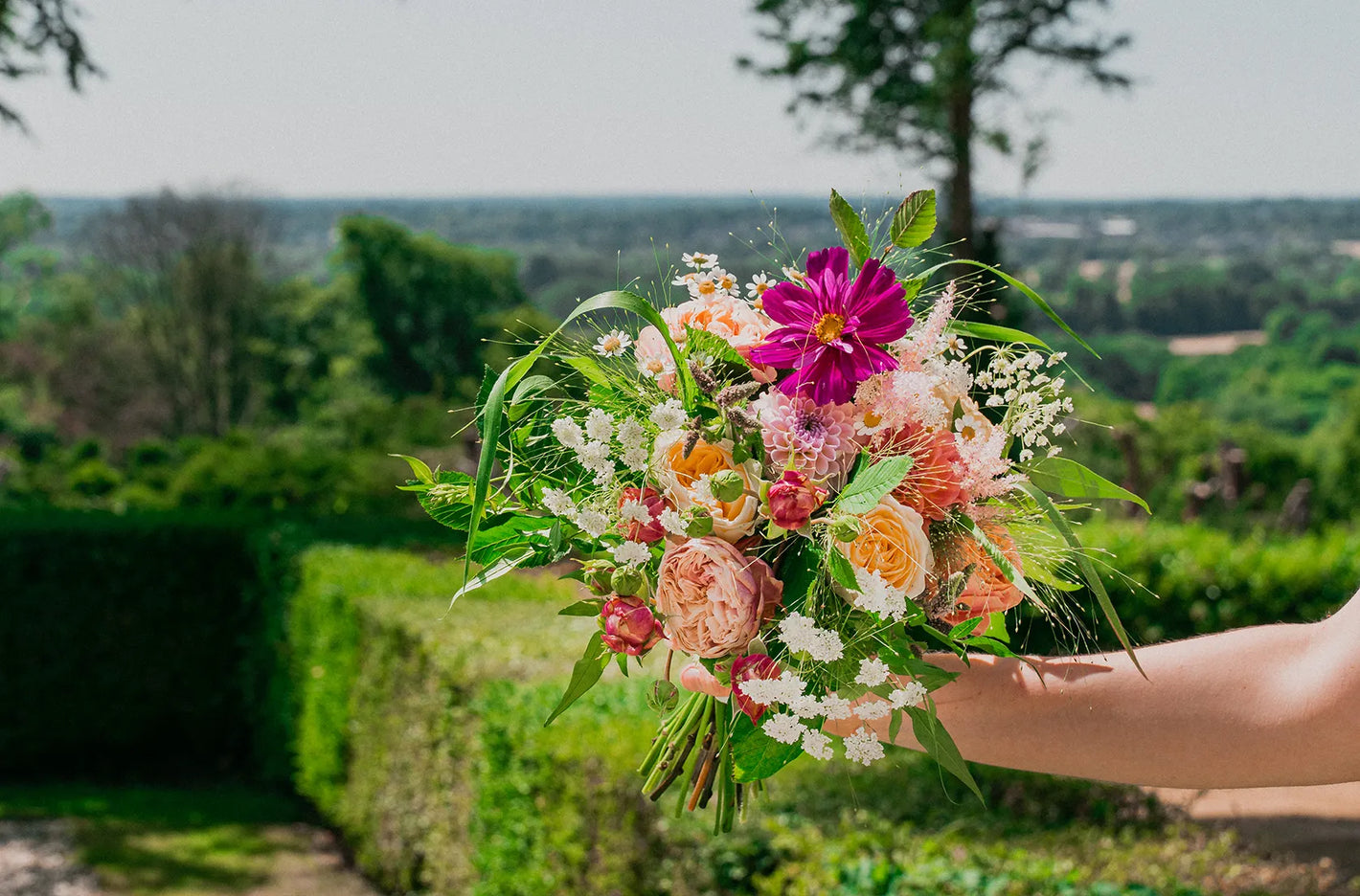 A wedding isn't complete without bouquets and flowers as they can instantly brighten the day with vivid colours full of hope. In fact, they can turn a picturesque venue into something more magical and dreamy while providing romantic scents. As a result, everyone will feel the positive energy surrounding your big event where you'll celebrate your love with your partner.
However, finding the perfect bouquet that matches your wedding gown might be overwhelming. To help you out, let's discuss everything you must consider when choosing a bridal bouquet to match your gown.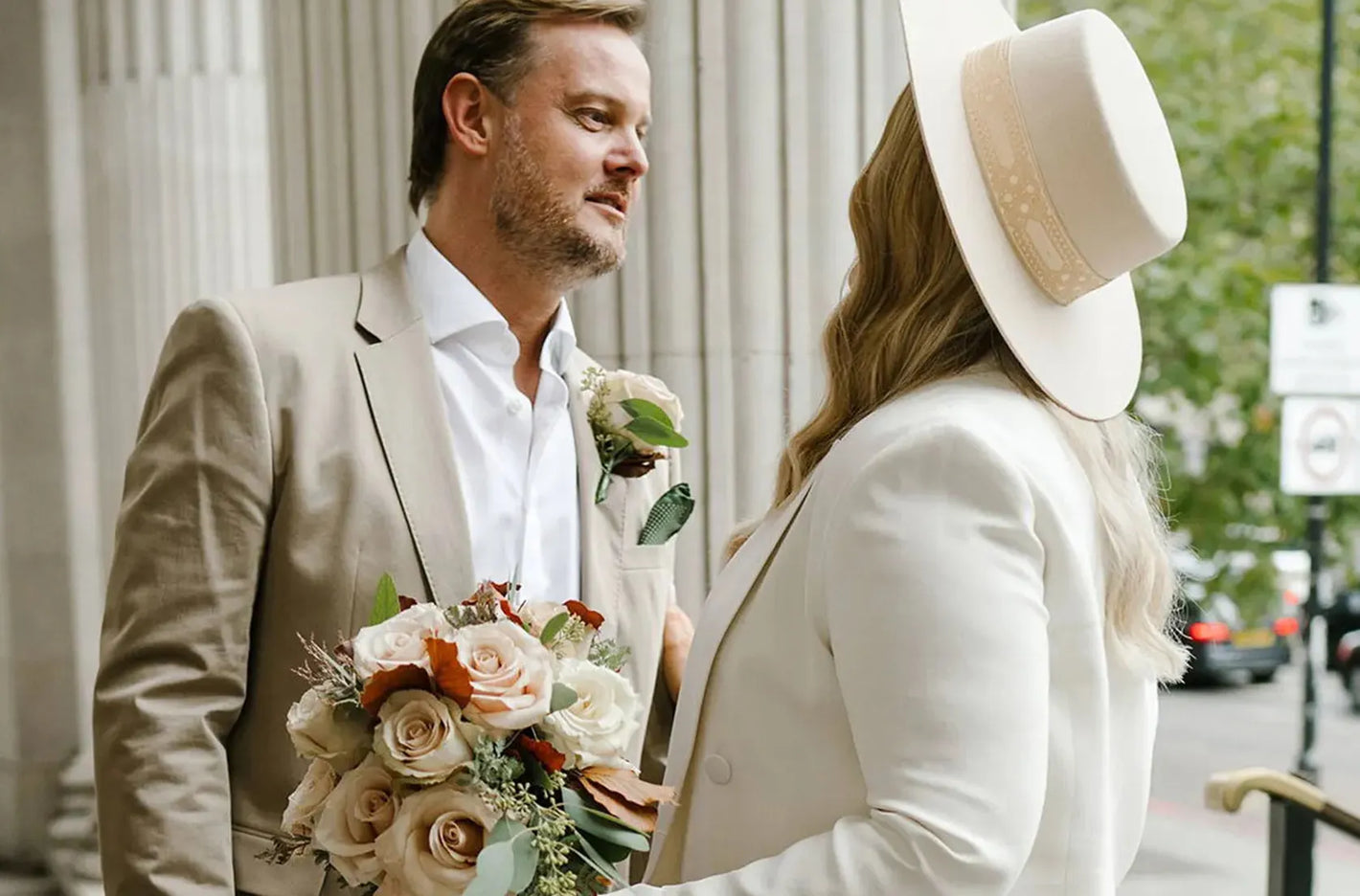 6 Tips To Match Your Bridal Bouquet To Your Gown
1. Match Your Gown's Style
It's no surprise that there are numerous bridal gown themes to choose from, but did you know there are also different bouquet styles?
For example, nosegays and round bouquet arrangements are considered traditional styles. And on the other hand, arm sheaf bouquets and hand-tied ones fall under the contemporary category. So for best results, you should go for a classic bouquet if you're wearing a traditional wedding gown and go for a contemporary one if you have a non-traditional wedding dress.
If you're having difficulty differentiating bouquet genres, we have a stunning collection of bridal flower arrangements you can check out. At Wild At Heart, we offer ready-to-use bridal bouquet arrangements and we'll help you find the best ones that'll complement your wedding gown.
2. Find The Perfect Balance
Pairing an elaborately embellished wedding dress with equally embellished accessories will result in utter chaos. This will ultimately make the bride's outfit appear cluttered and unorganized. With this in mind, it's essential to find the perfect balance with your accessories – and it's no secret that one of the best accessories a bride has on her wedding day is her bridal bouquet.
Opulent wedding dresses will benefit from a simple bouquet, while a minimalist gown with a simple silhouette will shine with the help of an eye-catching floral arrangement.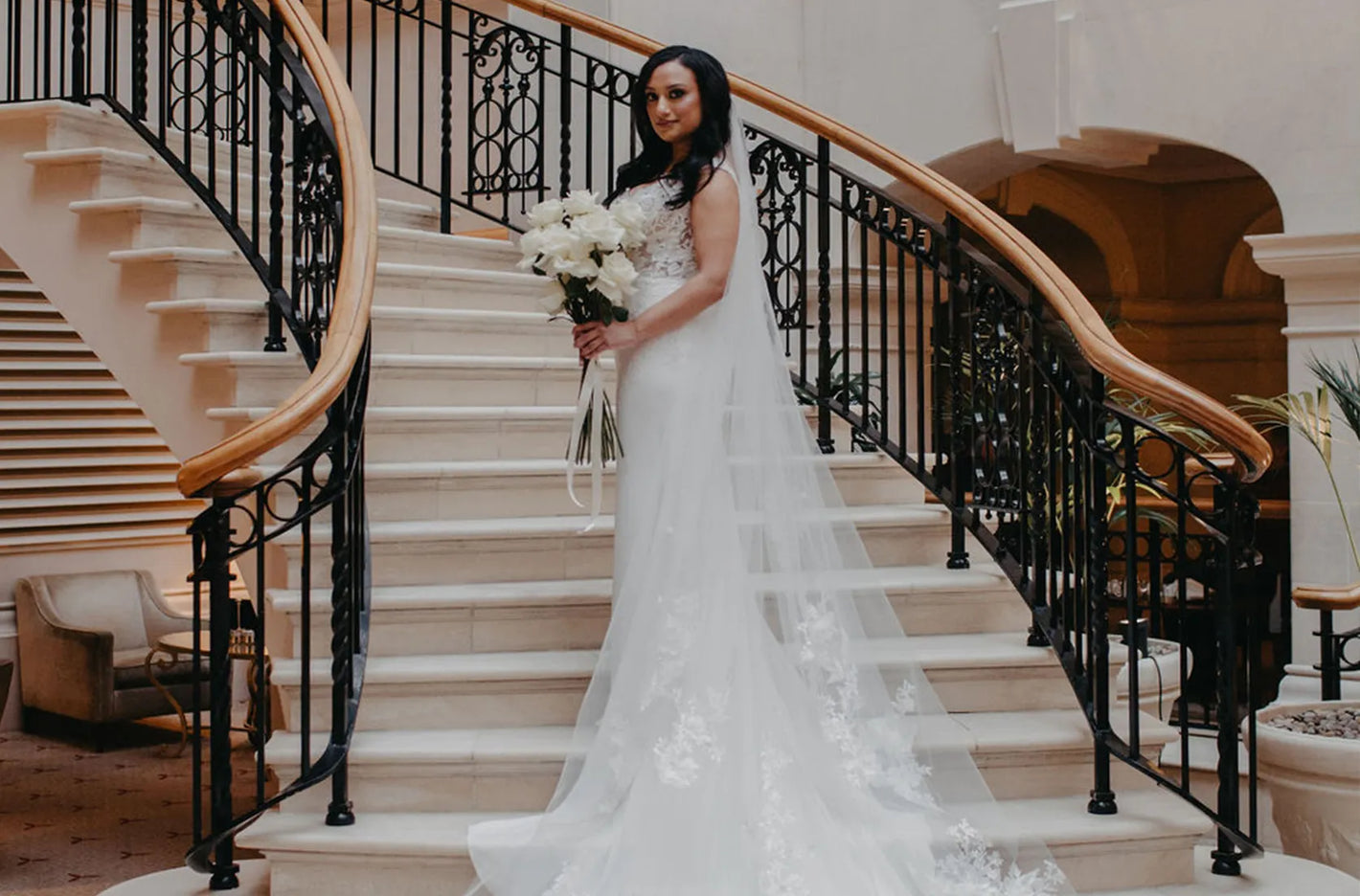 3. Think Of The Optimal Bridal Bouquet Size
Just like how you opted for a gown that highlights your natural proportions, you should also find a bouquet that won't be too big or too small for you. So before settling on an arrangement, you should see if the size matches your build and does not look out of place.
Moreover, its shape also plays a role in highlighting your natural features and your gown's intricate details you want to shine the most. For example, if your wedding gown features a narrow waistline, you should go for a small bouquet to show off your petite waist. Plus, you wouldn't want a bouquet that could hide your wedding bands!
4. Match The Colours
After browsing through hundreds of wedding dresses, you must know by now that gowns come in various shades of white. Naturally, therefore, your bridal bouquet's effect will differ based on the shade and colour of your dress. Moreover, light-coloured flowers are more crucial because they can quickly appear washed out, intense, or tacky, depending on the white background.

But don't worry because we can help you with your wedding day floral needs – from bridal bouquets, arches, table decor, and aisle flowers. Our expertise will come in handy as you choose the perfect colours to make your venue lively and classic.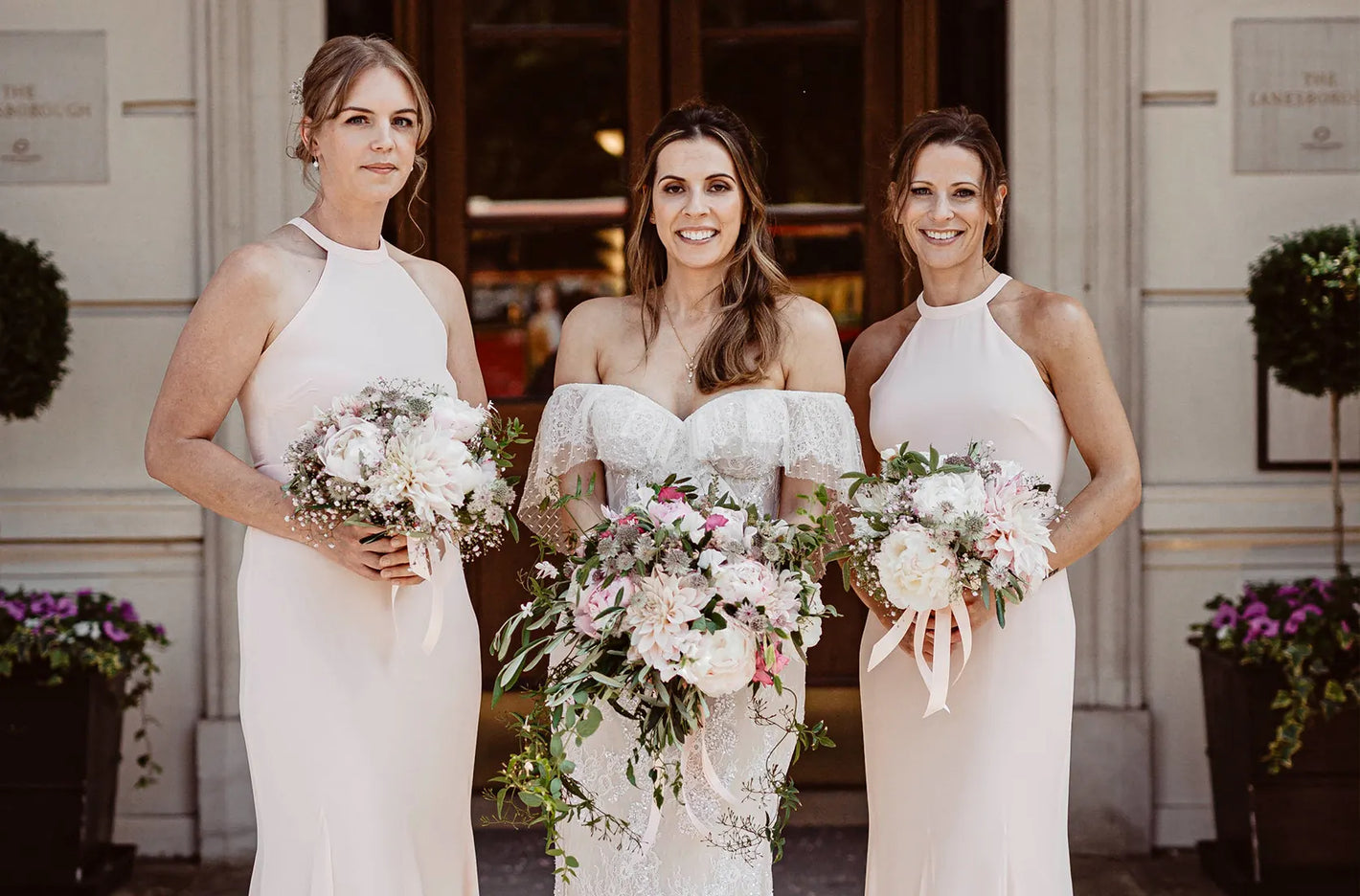 5. Match Your Bridesmaids And Groomsmen

If you want to tie the entire wedding together, your bridesmaids should have beautiful and matching flowers as well. You may opt for simple yet stunning bridesmaid posies. And instead of boring pocket squares, you may spice up your groomsmen's apparel with dainty buttonhole flowers. To help you out, our florists can cater to a wide variety of floral arrangements you may incorporate into your special day.
6. Your Comfort Matters
On your wedding day, it's normal to feel nervous and jittery – but you shouldn't feel uncomfortable because of your bridal bouquet. With this in mind, you need to find a gorgeous floral arrangement that'll fit in your hand easily. While browsing through different designs, you may test a bouquet's comfortability by holding it:
- Below your hip
- Slightly away from your body
- In front of your hips
Trying out these poses will help you feel more relaxed while holding the bouquet. But if you still feel iffy about it, it might not be the arrangement you should bring to your wedding day.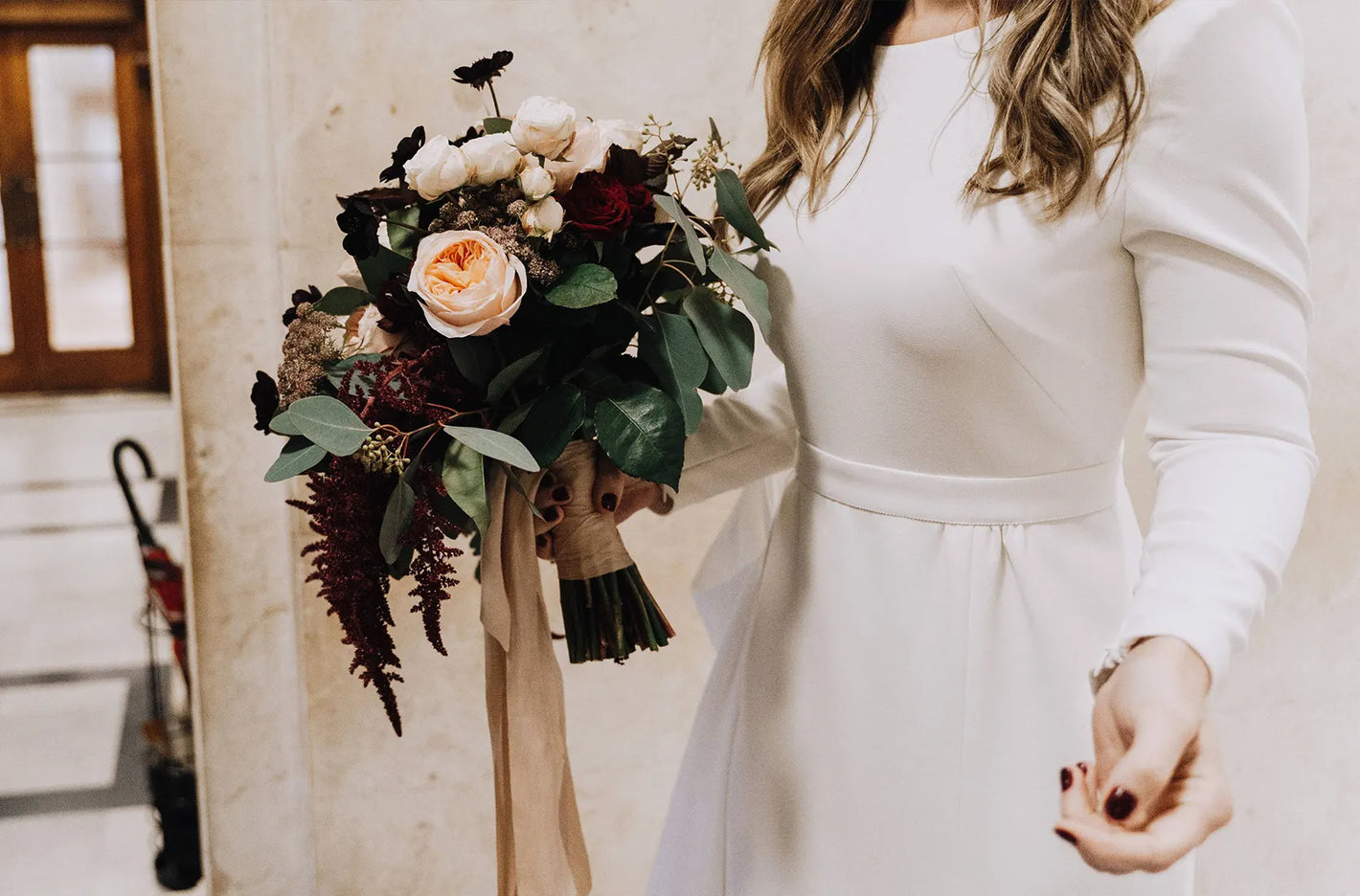 After going through the ups and downs of matching your bouquet with your gown, it all boils down to one thing – your personal preference. Some brides prefer huge, statement bouquets, while others prefer tiny ones for a classic look. So whether it's your wedding gown's colour that inspires you, your own style, or even the venue – remember that your wedding bouquet will look and feel beautiful because it's specially made for your big day.
By considering the tips above, you'll have a more coherent wedding day outfit that'll surely wow every guest and your partner.
Browse our Bridal Collection